Micheline Grossi Lombardi is a Rhode Island College graduate. Her professional career in community corrections spanned 40 years, the last 22 years in Probation and Parole retiring in 2011 as a Probation and Paroles Supervisor. Known for her skill in the kitchen, at the age of five, she made Pastina in an act of rebellion for her refusal to eat Pasta e Fagiole; by age 10 she had mastered Veal Marsala. Married in the middle of an undercover sting operation, she honed her culinary skills on family, friends and felons.
Started as a column in a small-town newspaper, Mangia with Micheline combines generations of Italian-American flavors and traditions with heartwarming, humorous and remarkable personal tales that celebrate those memories shared around the family dining room and kitchen. From family inspired spins on classic dishes like Veal Osso Buco, Chicken Piccata, and Calamari Ripieni to homespun tales of growing up in Providence's celebrated Italian neighborhoods and living undercover as a gangster's moll, Mangia with Micheline is a journey of life and discovery told through stories, recipes, family photographs and proud Italian-American traditions.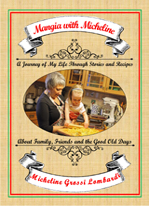 Mangia with Micheline started as a simple article about life and food, but it became so much more. It became a journey during which my mother shared her wisdom, stories, encouragement, recipes and love to make this book a reality. I was belssed not only to know her as my mom, but also as a woman and my best friend. How wonderful it was to see her life's journey through her eyes. Her attitude was always positive, she handled hardships with grace and courage, and tought her children, grandchildren and great grandchildren by her example. My mother safeguarded our secrets, freely shared her wisdom, never intruded, and was steadfast in her love. Mary Bevelaqua Grossi was a beloved sister, aunt and cousin to the Bevelaqua Family.
I have chosen to be consistent throughout the book using the spelling of Bevelaqua as it appeared on my mother's birth certificate, knowing that within the family it is also spelled Bevelacqua and Bevilacqua. Whatever way it's spelled, it's my fabulous family and I love them all.